Post by High Priestess on May 31, 2016 1:28:16 GMT
Jennifer shared on ABB Products and Updates
www.airbnb.com/groups/content/content-163086
Jennifer10 months ago
Feedback on dashboard section of reviews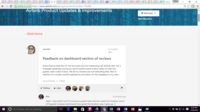 Does anyone else this it's not accurate and not measuring up? Airbnb sent me a message yesterday saying my past 5 guests were 5 stars today my last two guests were under 5 stars. Yet all my reviews are not indicating that. Not to mention it's usually overall experience and value. I'm the cheapest in my area.
22 comments•4 likes
Follow
Like
Alia
Stephanie and Steven
Eric
Douglas
Alia
Alia10 months ago
Yeah. I was told 2 out of 3 previous guests have me low marks for location, but 2 of 3 guests' reviews mentioned how great the location was. I give up. :]
Reply Like 2 likes
Jennifer
Jennifer10 months ago
Same here. So it's not just me. Thanks for sharing
Reply Like
Rick
Rick10 months ago
Me too & this is a troubling development-- from other hosts I've learned they they are threatening de-activation of listings if your ratings are consistently low-- not cool if it's for things you can't control!!
Reply Like 4 replies•4 likes
Florian & Theresa
Florian & Theresa10 months ago
Really de-activation? Wow, that's tough.
Lisa
Lisa10 months ago
It's not even if you're consistently low. 2 in a row will do it! I'm a recipient of the threatening email and has turned me so far off of Airbnb. Those damn stars are subjective, some people don't rate anything at 5* out of principle and some of your 5* will come from folk you had very little interaction with, concerned if they were enjoying themselves and just thought they were going to tank you on those freakin star ratings. I did post the threat email on one of the other forums, can't remember if it was Hosting911 or Anecdotes, please go have a look. A lot of very hard working and dedicated hosted are receiving these and lots have just had it with Airbnb. A few have delisted and gone to other platforms. I still have my listing on Airbnb but have now listed elsewhere. And it only takes 2 four or below * in a single category to generate the threat letter to remove your listing. Since the uproar of it 2 weeks ago, Airbnb seems to have pulled those back a bit but have lost of very committed, loyal hosts to other platforms that actually appreciate hosts rather than bully and threaten
Jennifer
Jennifer10 months ago
What other platform are you on Lisa?
Lisa
Lisa10 months ago
Jennifer I listed on Wimdu
Stephanie and Steven
Stephanie and Steven10 months ago
totally agree with everyone on this. We work our butts off to reach super host status, (I thought it meant something) and because we've had three pretentious first-time guests who seem to think they're writing for the Michelin guide, we've had to worry about getting delisted.
Reply Like 2 likes
Penny
Penny10 months ago
It's aweful, AirBnB really need to lift their Host Customer service support. They will find themselves in a lot more trouble if the long term experienced hosts leave to another platform, yes they make money from guests but WITHOUT HOSTS to use THEIR ASSETS to house these guests, their TIME to communicate with, share their local knowledge and let guets into their lives... well AirBnB have NOTHING!
Reply Like 4 likes
Eric
Eric10 months ago
A worrying development indeed. Airbnb definitely need to up their game in many areas.
Reply Like 2 likes
Stephanie and Steven
Stephanie and Steven10 months ago
I taught preschool 25 years ago. Last night, staring at the ceiling in bed thinking about this, I realized, the service is run by people in the same age group as those kids I taught. (bear with me here - there is a point.)
The thing is, unlike anyone over the age of 45, this is the generation of the participation trophy. This is the generation of the automatic A grade. In the world of 30-somethings, a five star review is the norm because just showing up is enough to get you a lot of praise and a medal or a ribbon (whatever's being given out) so they honestly don't get it when someone leaves fewer than five stars. It's a slam to do that.
I've been noticing a real generation gap with regard to reviews and I think this explains it. When I was going to school (not college but before that) getting top marks was a rare thing, when these kids went to school (I know, I was a teaching assistant for a lot of them) getting a C meant you barely showed up and had some serious problems.
There's a communication issue here. We live in an age where an exclamation mark is a necessary thing, without it, a sentence seems unfriendly, and that is the same age where you get a perfect score just for showing up.
We got our super host status from the fact that the majority of our guests are in their 30s. Now that we're having a lot of people in their 50's and 60's our star ratings have dropped below the 80 per cent mark. I think that explains a lot.
Reply Like 4 replies•7 likes
Lisa
Lisa10 months ago
That is an absolutely brilliant theory. I never thought of that but I completely agree! My older guests are certainly more critical than guests that are in my age bracket and older.
Eric
Eric10 months ago
A good theory indeed. We target families and more mature, responsible guests. We've also had a fair share of younger guests too. From our experience at our villa in Cape Town, we've had 11 five star reviews out of 12. We do have
Eric
Eric10 months ago
We do have more younger guests coming in the next few months so will gauge this further. Thanks for sharing Stephanie and Steven. Insights and commentaries like yours is what makes this Group so useful.
Jennifer
Jennifer10 months ago
I have mainly younger guests in their 30's. That's the majority age group and it's not the case. Not to mention I'm 35 and just finished college last year. This theory makes no sense.
Stan & Maggie
Stan & Maggie10 months ago
Brilliant theory and I am very sure that this is true esp for younger US guests. Although I have just made a decision to only host older guys on there own when they come with uber excellent reviews as this seems to be a troublesome demographic
Reply Like 1 reply
Rebecca
Rebecca10 months ago
I've found older guests to generally be the most problematic, whether they're single, a couple, male or female. They seem to find the idea of a shared space harder to grasp and are more prone to demand an awful lot of my time. On the other hand, I've had some wonderful seniors so I'm not going to give up on them yet.
Rebecca
Rebecca10 months ago
Very interesting theory indeed and a great observation. It's reminded me of a teacher friend who told me about the work of an eminent American educational psychologist who has written extensively about this issue of not allowing children to fail and the stifling of competition and how damaging it is to their development. I can't remember her name and g o o g l e isn't helping. Maybe you know who I'm talking about, Stephanie and Steven, as you're in the field (or at least were)? I do hope so because I'd really like to read up on it. I guess we have to take account of where guests are from, though. This 'participation trophy' phenomenon is predominantly a Western thing, isn't it? I don't know.
In my part of the world we have had the breakdown of star rating for only a month so it's too early for me to tell any pattern. Initially I hated this reveal of all those guests who left great reviews and then marked me down! But the inner nerd in me took over and I now have a spreadsheet monitoring the ratings, noting whether they were single guests, two friends, a couple, country of origin, length of stay. Now age group is added!
Reply Like 2 likes
Jennifer
Jennifer10 months ago
None of this is helpful. Does anyone have real feedback?!
Reply Like 3 replies
Rebecca
Rebecca10 months ago
Not sure what it is you want to hear, Jennifer? None of us work for Airbnb. We are just hosts like you. I too today received a couple of reviews and one of them was less than 5 stars in a couple of categories. Yet, like you, the Dashboard told me well done, my last X reviews were all 5 stars. It's a glitch. The site is full of glitches. You just have to shrug your shoulders and get on with it. You must know this by now, surely! You've been a host for a while and been on the groups before. Often posts get sidetracked by related issues. It's nothing personal, it's just the way it goes, like having a conversation. If you want specific answers to your question it's probably better to contact Airbnb directly.
Jennifer
Jennifer10 months ago
How do host improve star ratings? Other posts and other hosts give what works for them. That is what I am doing. Looking for solutions.
Rebecca
Rebecca10 months ago
How to improve star ratings is a very big question! So are you looking for something more than you found in these other posts that you mention? The New Hosts Group and Bedder Hosting and Hosting 911 are full of interesting advice, ideas and discussion. You are getting very nice reviews and 4+ stars is good. If you look at the discussions on this subject in the other groups you'll see that many hosts agree the rating system is subjective and unless you are consistently getting extremely low stars in one particular category, it's best to just shrug your shoulders and recognise that as long as the reviews are good, you're doing the best you can and bookings are consistent, it's all fine. Chill!
Stephanie and Steven
Stephanie and Steven10 months ago
I think all of it was helpful. What, exactly, are you looking to hear?
Reply Like
Stephanie and Steven
Stephanie and Steven10 months ago
People agreed with you. Nobody thinks it's accurate, furthermore, guests have different motives for posting reviews and different ideas of what constitutes a good review.
What else are you looking for? You asked for feedback and now you're insulting the feedback you've received.
If you want a specific answer, you need to ask a specific question.
Reply Like
Jennifer
Jennifer10 months ago
Solutions!
Reply Like 1 reply
Penny
Penny10 months ago
Wow just wow! People are offering their opinions and their time to give advice and share their perspective and your rude comments of "None of this is helpful. Does anyone have real feedback?!" and "Solutions!" well prompt me not to give advice, feedback or help. Your question is far from clear "Does anyone else this it's not accurate and not measuring up? "
Stephanie and Steven
Stephanie and Steven10 months ago
Regarding your comment about being the cheapest in the area. Very early on we hosted an airbnb super host from Brooklyn. He gave us a few hints and one was, don't be the cheapest in town. When you're the cheapest in town you attract the cheapest guests coming to your area and they are hardest to please.
I took his advice because, after some personal observation, I realized he was right.
Reply Like 3 likes
Stephanie and Steven
Stephanie and Steven10 months ago
You need an airbnb service representative. We're a discussion group. Not here to solve each other's problems - right?
Reply Like
Stephanie and Steven
Stephanie and Steven10 months ago
And it's unlikely that any of us are going to tell you what to do.
Reply Like
Stephanie and Steven
Stephanie and Steven10 months ago
I'm off to welcome a guest. Since he's a first-timer, I am going to ask him not to leave a review until he's stayed at two other airbnb listings, at a minimum.
Not leaving myself open to slash and burn star ratings combined with disingenuous glowing reviews again. I like being a super host.
Reply Like 1 reply
Rebecca
Rebecca10 months ago
Now that's really interesting! I have the opposite perspective. I like having newbies because I give them a really good time and they think wow, this is great and such good value. Then they go somewhere else in another city (even in same country) where accommodation is much cheaper and they think oh! maybe that other place wasn't so great after all.... So I leave reviews for new guests immediately in the hope that their curiosity is piqued to see what I've written. Mmh, that sounds very calculating doesn't it. Yeah!
Bekah and Brian
Bekah and Brian10 months ago
...and remember: "Value" does not mean "least expensive". It's about guest's perception re:what they spent and what they received. Most hosts who've been doing this a spell will agree that the star system is grossly flawed and airBNB doesn't seem to be doing a damn thing about it.
Give them a call. Maybe they'll provide some solutions.
Bet not, though.
Reply Like 2 likes
Jennifer
Jennifer10 months ago
Thanks Bekah and Brian. I no way was indicating "least expensive" means value. I have just noticed it helped me in value. I also heard to set your price low and than offer extras. I have tried so many things and heard many ideas. From offer extras but don't mention them too lower price than competition. I think it also depends on the guest and what they are comparing my place to.
Reply Like
Susan
Susan10 months ago
Re the low ratings/warnings issue - please see my post on NHF today. It appears we may have yet another 'glitch' in the system.
Reply Like
Jennifer
Jennifer10 months ago
What's NHF?
Reply Like
Susan
Susan10 months ago
New Hosts Forum
www.airbnb.ie/groups/41
Reply Like
Deborah