Post by High Priestess on May 30, 2016 19:03:27 GMT
Jasmin shared on Anecdotes Jan 2015
www.airbnb.com/groups/content/content-102511
Do you accept guests with no photos and empty profiles?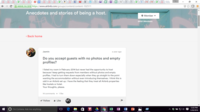 I listed my room in February 2014 but never had the opportunity to host because I keep getting requests from members without photos and empty profiles. I had to turn them down especially when they go straight to the point wanting the accommodation without even introducing themselves. I think this is odd in an Airbnb set up. I have the feeling that they treat all Airbnb properties like hostels or hotel.
Your thoughts, please.
14 comments•1 like
Follow
Like
David
Kim
Kima year ago
I would just ask them to fill out their profile and add a picture. They are probably just new to airbnb and don't know the importance of being verified.
Reply Like 3 replies•2 likes
Jasmin
Jasmina year ago
Thanks, Kim. That's what I've asked them to do and even provided them with the links to help them get used to the system. I'd really wanted to give them the opportunity to be hosted. Oddly, most of them finds it a chore. One of them was even hostile saying that he had no issues being hosted in the past. But there are no reviews in his empty profile. He did put up a photo on my insistence; it was a photo of his back and another of a cottage hahahahaha So I've decided from then on, to treat such requests as dodgy. On positive note, I'll be hosting my guest ever this Saturday

Salvia
Salviaa year ago
To be fair: it IS sometimes a hassle to register, that has been proven! And I personally have some respect and understanding for people without photo (like me) for Protection of privacy. But understanding what hosting on airbnb is like and the get character of a chosen listing and host is vital and a must for a pleasent guest experience. Therefore put emphasis on good and cooperative communication with/of guests as you already did and take that also into account when accepting a booking.
Jasmin
Jasmina year ago
That's a good point, too, Salvia. Unfortunately, most requests I received think because they're paying, I should just take the money and shut up. But I'm not running a hostel you know.
Mario
Mario a year ago
Jasmin, you did the right thing. If anyone does not present me with a decent profile and some information about themselves and why they are wanting to stay with me.....fugget it !!
Reply Like 1 reply•1 like
Jasmin
Jasmina year ago
Mario, I've written to Airbnb asking them to tweak the system to allow only members with a proper photo and minimum 1000 characters description of themselves to send hosting requests. It's a waste of time attending to their mails and they don't heed advice. Airbnb has a system where you have to respond within a certain frame of time.
Tena
Tenaa year ago
I usually say something like "I see that you are new to airbnb... please complete your profile with a photo etc. and let me know if I can answer any questions for you." That way you are being helpful and it could turn into a good guest or on the other hand they may just drop it, but you will never know unless you offer to help. I would never host a guest without a complete profile.
Reply Like 1 reply•2 likes
Jasmin
Jasmina year ago
Tena, I guided them by sending them links about being a responsible guest and safety issues. I just revisited their profiles. They're still empty. I think they fail to understand to concept of Airbnb.
John
Johna year ago
I refer them to the part of my listing that says "no profile + no pic + no verifications = declined from me" then I give them a few hours to respond, then in every single case of this I decline them when they fail to update their "profile". There are too many scammers out there to take any risks with handing over the keys of your home to total strangers. Those who don't like this, can find other places.
Reply Like 1 reply•4 likes
Jasmin
Jasmina year ago
John, I revisited the profiles of guests without photos and personal description. They're still empty despite my advice and guidance about Airbnb. Very dodgy.
nathalie
nathaliea year ago
Definitely need a picture and a minimum of respect on both sides; as we try to be good hosts, they should try to be good guests... I always ask how many of them there are, composition of the group etc... they sometimes fill in the request as being 2 and you find there are 6 adults and children and babies... if there is the smallest doubt, I decline.. never mind the money, I prefer the peace of mind...just had a bad experience with a group of young people; seemed to be ok but turned out awfull....
Reply Like 2 likes
Jasmin
Jasmina year ago
I used to host on a hospitality site that works like pay-it-forward kind of concept. There is an unwritten understanding that if you're coming with a friend, the friend must have his/her profile on the site, too. Couples naturally would have joint profiles. That makes it easier for hosts like to gauge the suitability because you're inviting them into your home. As Airbnb is gaining popularity, there are lot of new sign ups, thinking that it's like a hostel club and they can just stay without having a photo and profile. They forgot that they're going to stay in someone's home. They never thought that the host may have security concerns accepting strangers into their homes.
Reply Like
Alexandra
Alexandraa year ago
When I was new with my offer on Airbnb I accepted also guests without picture and filled profile. I was new, they were new, it seems to be fair. I was lucky and they were all very nice :-) Now I ask if they can fill more information and they are totally ok with it.
Reply Like 4 likes
Jasmin
Jasmina year ago
You're very lucky, Alexandra. I have a spare room, which I listed on Airbnb. So I need to feel comfortable with the person I'm hosting because we'll be staying under one roof for several nights. Unfortunately, these potential guests weren't cooperative with my request for their profiles and photos. Some would say things like "is Airbnb that strict?" I've spent so much time trying to educate them about safety. They gave me the impression that they're entitled to stay in any Airbnb of their choice because they're paying and that hosts should not be picky and be grateful that they're microearning from this.
Reply Like 2 likes
John
Johna year ago
There are numerous scammers around including some who have rented homes then "sublet" them over a weekend of pretending that they were the owners. Some have taken in thousands of pounds then vanished, leaving the legitimate owners with a total nightmare of police and irrate "new tenants" who paid for something that never existed. Who needs that? I don't care how many people I decline. It only takes one to get through the net with no pic or profile. They won't be staying with me.
I am always polite and always give them a chance to comply, but none have done so yet, and checking back on them, they still have blank profiles.
Reply Like 1 reply•2 likes
Jasmin
Jasmina year ago
I revisted the empty profiles. They're status quo.
Monica
Monicaa year ago
It is very annoying for a company to rent via airbnb. Someone like a secretary would have to give her personal information to make a booking. One film crew that rented by house through airbnb commented on this hassle. Another group, a weekend retreat brainstorming session funded by the Quebec goverment refused to book through airbnb and found me by asking around her locally - then booked directly. Airbnb should have a section where a company can book.
Reply Like 2 replies
Mario
Mario a year ago
I completely disagree. Your requirement for accommodation should be fulfilled by the corporate organisations that are set up for this purpose. Airbnb should not be set up for this.
Monica
Monicaa year ago
In that case, I would need to set up my own website so that booking through airbnb would not be necessary for corporations.
Lešaja
Lešajaa year ago
That's why always ask my guests a lot of questions before they arrive. Many of them didn't have photos or any info about themselves on their profile. It always worked fine so far, that's why Airbnb encourage us to communicate before commiting.
Reply Like 2 likes
marie josee
marie joseea year ago
No way
Reply Like 1 like
marie josee
marie joseea year ago
You let thèse people enter your property you have to Check it our very important hope it helps you
Reply Like 1 like
John
Johna year ago
If you get the wrong type of person staying in your home, and they refuse to leave, there could be a lengthy court/civil action to follow, especially if they claim to be homeless and that you invited them in....... only saying - be ultra cautious. Those with nothing to loose will try anything, and they have.