Post by High Priestess on Feb 2, 2016 23:53:30 GMT
I just wanted to post a link to this website -- in case others haven't heard of this site yet, this site has data showing the number of listings in some of the larger cities in the world, and a breakdown showing how many are entire apartment vs private room, etc. See the site here:
insideairbnb.com/about.html
THe site founder's motivation appears to be that of demonstrating that Airbnb has a negative impact on availability of residential housing in any given area. For instance, note what is highlighted in this image:: (1) impact on housing, (2) entire home listings, (3) frequently rented (4) host not living at the listing.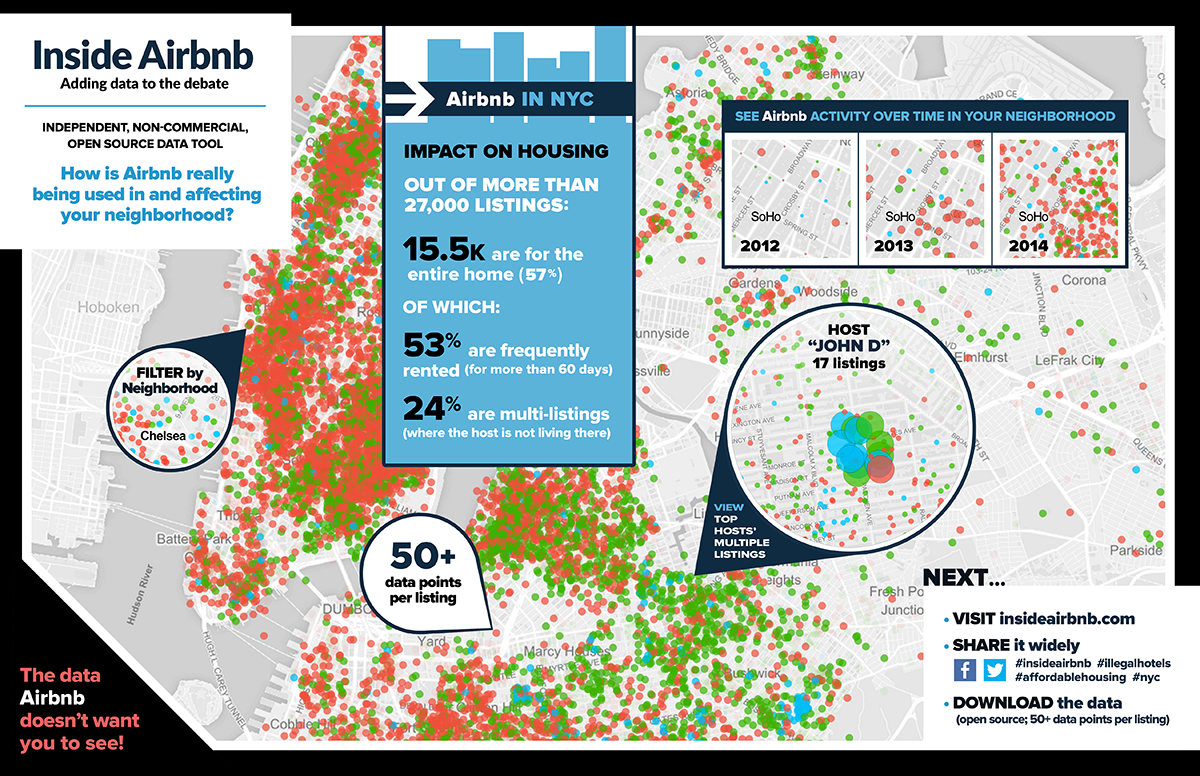 Data from many cities is available, here:
insideairbnb.com/get-the-data.html
including:
Amsterdam, Antwerp, Austin TX, Barcelona, Berlin, Boston MA, Brussels, Chicago, Dublin, London, Los Angeles, Madrid, Melbourne, Montreal, Nashville, New Orleans, New York City, Oakland CA, Paris, Portland OR, San Diego CA, San Francisco CA, Santa Cruz County CA, Seattle WA, Sydney New South Wales, Toronto, Trentino Itality, Vancouver BC, Venice IT, Vienna Austria, Washington DC
Many "anti" short term rental statements/observations are made here, such as this comment made under "activity":
"Airbnb guests may leave a review after their stay, and these can be used as an indicator of airbnb activity.The minimum stay, price and number of reviews have been used to estimate the occupancy rate, the number of nights per year and the income per month for each listing.How does the income from Airbnb compare to a long-term lease?Do the number of nights booked per year make it impossible for a listing to be used for residential housing?
And what is renting to a tourist full-time rather than a resident doing to our neighborhoods and cities?"
THis comment under "availability" also seems to coach spies and home sharing foes in how to look for "problems":

"Entire homes or apartments highly available year-round for tourists, probably don't have the owner present, could be illegal, and more importantly, are displacing residents."
THis comment in "listings per host" again attempts to vilify hosts:
"Some Airbnb hosts have multiple listings.A host may list separate rooms in the same apartment, or multiple apartments or homes available in their entirity.Hosts with multiple listings are more likely to be running a business, are unlikely to be living in the property, and in violation of most short term rental laws designed to protect residential housing."