Post by High Priestess on May 30, 2016 23:15:07 GMT
The Sharing Economy
Member
26146 Members
‹ Back home
Hugh shared on the Sharing Economy Jan 2015
www.airbnb.com/groups/content/content-102936
Airbnb Host Guarantee is WORTHLESS - The risk of sharing your property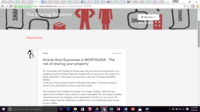 Hi. I have been with Airbnb for three years and now have five properties in my neighbourhood on Airbnb. Recently, a guest left an iron burn in the carpet of a studio apartment. The carpet was less than 1 year old. The guest admitted liability.
In the past I have assisted Airbnb with press interviews. I have also shared a venue I own with Airbnb so they could host events.
The company that installed the carpet is no longer trading. I obtained two reports from installers that a match in colour and pattern for the carpet installed cannot be found. Accordingly, as the apartment is studio (i.e. one room), the whole carpet requires replacing as a patch from a non matching carpet would be very visible.
*Airbnb will not reimburse the cost of replacing the carpet.*Airbnb will not give me the security deposit from the guest.
*Airbnb will not explain why they will not reimburse the cost of the carpet. They offered 10%.*Airbnb will not give me the contact details for their management or legal team so I can discuss this. *Airbnb has a "take it or leave it approach"
The risk of sharing your home with strangers is eased by the promise of a HOST GUARANTEE of $1 million. When you find this Guarantee is not worth a pinch of s**t you have to question whether to do it. I feel like telling Airbnb to "shove it" and let them deal with the next 50 bookings that will not be welcome. Thanks for nothing COOPER.
3 comments•1 like
Follow
Like
Poly
Maxine
Maxinea year ago
As a previous rental landlord for 7 years in the uk, I have discovered that damage claims against a (government-registered) Tenants Deposit Scheme are only ever pro-rata.
For example: I buy a 100m roll of 50/50 wool carpet for a large apartment, and have it fitted throughout.
Year 2 - tenant leaves permanent red hair dye stain on bedroom floor just to left of door. (Really noticeable).
Claim is decided thus:
Cost of carpet: £1000 divided by amount of rooms it was laid in. (5) £200
Expected life of carpet - say 5 years. Value per year - £40 (for tax/asset value purposes)
Damage to carpet - less than 10 per cent.
Value of damage - £40 divided by 10.
Value of claim - £4.
Despite the fact that if I have the room carpet replaced it will not visually co-ordinate with any of the other rooms, which all open off of a central hallway, which it will not match either.
Solution - get a cheap area rug and replace all fitted carpets in 3 years time :-)
It took me a long time to accept this decision but it is the only true way to judge damage costs.
Reply Like 2 likes
Kathleen
Kathleena year ago
Well Maxine-i would say you are a wise business person! I just have my home and rent out rooms and am around most of the time. I have all wood floors as they are not expensive as they used to be and find all of my linens at bargain prices and replace them often, i am not wealthy and am not making a lot of money. However my life in enriched by the new friends i have made and are making.
Reply Like
Maxine
Maxinea year ago
Well I am not so much wise, as someone who has 'learnt the hard way'. I always supply good quality iron and excellent ironing board, and actually tell some people not to iron on the carpet! This is an old habit left over from being a student landlord. I also use a lot of thrift store finds, but new linens and towels.
I think that problems happen, but there is no point getting too upset. I spent 6 months freaking out about the carpet I described. Still using it though! And it looks fine :-)