Post by High Priestess on May 28, 2016 16:05:11 GMT
Deborah shared on New Hosts Forum Jan 2014
www.airbnb.com/groups/content/content-91254
Guest wants to use space heater to supplement central heating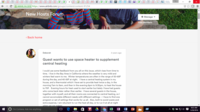 I could use some feedback from you all on this issue, which rises from time to time. I live in the Bay Area in California where the weather is very mild and winters feel warm to me. Winter temperatures are often in the range of 50-65F during the day, and 40-55F at night. I have a central heating system in my house, and a thermostat which I have set to provide heat twice a day, in the morning 7am to 9am, and then in the evening 6pm to 9:30pm, to heat the house to 70F. Evening hours for heat used to start earlier but lately I have had guests who come back later rather than earlier. I have several guests in the house, together with myself, and all their rooms are connected to central heating, so I cannot accomodate different needs with different settings -- I have to find one program or set of settings that works for us all. Also, both to avoid waste and extra expense, I am reluctant to run the heat all day, or to run it at all at night when we are asleep.
My house rules are that I dont' allow use of space heaters, due to the fire hazard they pose. I have both experienced this in my house -- I once had a renter set a chair on fire by placing the space heater next to it and leaving it on when he left the house -- and I have been given legal advice that it is best not to use space heaters because of the fire danger they pose. Not only radiant heaters, but as high-wattage appliances, they could cause an electrical fire if someone were to plug them into an extension cord that was inadequate for the amperage (power) drawn by the heater, causing melting of the wire and a subsequent fire.
Yet from time to time I get a guest who feels that the heat I provide via central heating is inadequate, and who asks for a space heater. I attempt to accomodate their request for more heat by changing the settings and having the heat come on longer, or to a higher temperature (eg, 72F instead of 70), but I don't feel it is fair for someone to expect me to have the heat running all night, or all day when they might be the only one here, but also I dont' want to provide them a space heater, for the above mentioned reasons having to do with the fire hazard of space heaters.
Has anyone else had this dilemma, and how do you resolve it? I am posting this because I currently have a guest from a country with a tropical climate, who is worried about not being warm enough, and who has requested to use a space heater. So far this guest is happy with me changing settings on the central heating, but there might be a point with this person or with another where the guest was not satisfied.
16 comments
Following
Like
Edit
Delete
Fleur, Dan and kids
Fleur, Dan and kids2 years ago
Direct them to a second hand shop to buy some appropriate winter clothes! I've been in your parts mid winter and found it quite tolerable. Yosemite was freezing though but that was to be expected.
Reply Liked 3 replies•3 likes Delete
Deborah
Deborah2 years ago
That's my own approach, and I don't like a house that is too warm, but I enjoy the heat in the morning when I get up. One of the guests I had who wanted more heat was elderly, and I wasn't sure how to deal with this issue vis a vis an elderly person --- treat them the same as everyone else, or not?
John
John2 years ago
Well, I'm not yet what I'd call elderly since I'm not quite 60 - but - I've noticed that "older = colder" is true...I used to be comfortable in short sleeve shirt at 68F - now I have to have heavy sweater at 70F! So if you have varying ages/origins of guests, they may all have different temps at which they are feel ok so not sure how best to handle that.
Maggie
Maggie2 years ago
That's just what I was thinking too Fleur when I was reading the post! So many people won't wear a jersey (sweater) inside and want to use the heat instead (yes my husband!).
Lisa
Lisa2 years ago
It's best you put it a little higher, because your guest need to be comfortable... 70F is not warm enough if the temperature outside is in the 40 or 50... 72-74 depending on if the house is stays warm, timer is great and they wouldn't have to use a space heater behind your back... Because if they are cold, they may not let you know that they are using one... Safety first..
Reply Like Delete
Sonja
Sonja2 years ago
Maybe provide an extra blanket for winter nights?
Reply Like Delete
Andrew
Andrew2 years ago
Has your current guest actually experienced not feeling warm enough, or is he merely worried about the possibility that he might not be?
If the latter is the case, you needn't do much more than assure him that you can raise the thermostat upon request. An extra blanket is an essential item for all guestrooms as well, and guests of a certain age are sometimes also very pleased to be offered a hot-water bottle.
If, however, the guest has already experienced a night of feeling too cold in the house, and the problem can be solved with your central heating, then it doesn't seem unfair to expect you to leave it on - at least during times when at least one guest is in the house. Sure, it can be excessive overnight, but unless you're doing boarding-school-style bed checks, you don't necessarily know when everyone is asleep. I prefer not to use the heating too much myself when there aren't guests here, but I also believe that erring on the side of too warm in winter is a normal part of the cost of running a short-term accommodation business. All the hard work we put into good hospitality goes out the window if a guest is uncomfortable due to something entirely within our control.
Reply Like 3 likes Delete
Sheryl
Sheryl 2 years ago
Deborah, would you consider providing the guest with an electric mattress warmer or electric blanket? When the temperature here, in the eastern region, starts getting low at night, I set my heat to 64. I turn on my mattress warmer before going to bed and sleep very comfortably. It has a automatic shut off. If you invest in 1 or 2, you'll have them on hand for guests who prefer a warmer temperature than you do. They will be comfortable and you won't have the fire risk of a space heater.
Reply Like 3 replies•4 likes Delete
Andrew
Andrew2 years ago
I like this idea!
Julie and Eric
Julie and Eric2 years ago
This is a great idea and it is what I do at home. It also has risks but perhaps they are less than a space heater. Also it is not necessary to have a blanket that matches the size of the bed – I believe mine is a full and we have a queen bed. Like Sheryl, I just use it to take the chill off because I keep the thermostat so low.
Karen
Karen2 years ago
Exactly Sheryl !! I prefer the heated mattress pad over the blanket. I've learned the elderly (like me...haha) prefer the heat penetrating from the bottom to warm the back (spine) versus the hot blanket (adding to the hotflashes...haha).
Deborah
Deborah2 years ago
Thanks everyone for your advice. I do provide at least one extra blanket and/or extra comforter in each guest room, and the guest who wanted it warmer in the evening has two extra blankets in their room.
Sheryl, that is a very interesting idea regarding using the electric blanket. I had never thought of that. Although, so far, it looks like guests who are asking for more heat are not cold when sleeping but when still active during the day or evening. In my own case, I must be of warmer blood than my guests who are around my age, because I am feeling too hot at night and keep throwing off my covers and opening my windows. (This may also have to do with me going through the women's "change of life" at this time...) I have an affinity for fresh air, and I like a house a bit on the cool side, so this makes the requests for extra heat a little more challenging as well for me.
Andrew, I think you are right about that -- that providing extra heat is perhaps necessary in this business. THe requests do all come from the older individuals -- not necessarily elderly but middle aged, as none of the young students (in their 20's and 30's) have ever asked for more heat.
Lisa, I think 72F would probably be a good idea for people who like it warmer --- one of the elderly men I had last winter mentioned 72F as his comfort zone. Any higher than that can start to feel oppressively hot to me.
Reply Like 1 reply Delete
Gretchen
Gretchen2 years ago
While I think it is fair to keep your house where you are comfortable I think you need to make clear in your listing that you keep you heat off except for twice a day and then heat only to 70 degrees. I'd freeze in your house and be quite miserable. I'd be quite angry if you didn't let me know up front. We have a wi-fi thermostat in the (whole) house we rent. We also have an alarm system that will tell us when the windows are open. The only time we dictate to people how warm/cool they may keep the house is when they have the heat or A/C running AND the windows open. Then we call and ask them politely to close the windows or turn off the heat or A/C. People have had the heat up to 78 degrees before and we've not said a word. They deserve to be comfortable and not everyone is comfortable at 70 degrees even bundled up. In particular as we age.
Rick
Rick2 years ago
I, too, prefer the temps to be cooler...I think it leads to healthier living..fewer colds, etc...BUT....most people don't think that way! (unfortunately especially in the US---where comfort seems paramount & running around the house in tee shirts & boxers is considered "normal" --even in January)...However, providing heat only twice a day, seems a bit severe---although you don't live in a cold climate...I'm sure the temps inside drop well below 70 between 9pm & 7am when the heat comes back on...
I have a couple of those oil filled radiator type heaters that I use for additional heat in specific rooms...they are plugged directly into the wall & I feel that there is little danger of fire, etc...although it would bother me if the guests went out sightseeing & left them on all day...The bed warmer/electric blanket thing might be a solution...
& the elderly are another issue...they feel both heat & cold differently. My father used to run our household like a military camp---no a/c before july 4 & heat always kept to a minimum (70 or lower)...he even wanted us to turn the shower on....then turn it off....soap up...& turn it on again only to rinse off! Sheesh! Needless to say, now he's in his 90's ---living alone...the heat is at 75 & the a/c can come on at any time after march! I wish my Mom was still around to see this!!
Reply Like 3 replies Delete
Deborah
Deborah2 years ago
Thanks for the feedback, Rick! I have had the heat settings the way they are in my house (heat on in morning and evening, a few hours each) for the 10 years I've been renting out rooms, and have never had anyone request that the heat stay on at night when they are sleeping -- even the elderly folks staying here during the last year didn't request that. The temperature certainly does go below 70 at night in the winter (usually to 65 or 66 at night) but warm blankets make up for that. I would be more inclined to provide several additional blankets and/or thicker comforters (or electric blankets! ) to guests rather than run the heat all night, which has always felt to me like energy waste, as well as physically uncomfortable. ALso it would probably cause a 30% increase in the gas bill each month.
Bekah and Brian
Bekah and Brian2 years ago
It does seem to be common that people think a house should be comfortable while in little more than their underwear! Last winter we had a couple from LA visit who complained of cold. It can get very damp and chilly in NOLA in winter, sure, but when Brian went up to check on the heaters etc he found them both in bike shorts and tank shirts! "Ummm...have you tried pants and sleeves?"
Julie and Eric
Julie and Eric2 years ago
I have one of those in my bathroom on a timer Rick - love it. And no kidding B&B! I sound like Eric's mom when I remind him he can put on a sweater if he's cold. He's so thrifty everywhere except the utility bill - he'd buy generic to save 50 cents but spend an extra $100 to stay warm/cool in the house.
Serafina
Serafina2 years ago
Andrew makes an important point: "All the hard work we put into good hospitality goes out the window if a guest is uncomfortable due to something entirely within our control." I'm a native Minnesotan and hate being cold, but keep my thermostat at 67 during the winter when someone is awake and at home, 55 at night. The air conditioner is set at 84 during the summer and only turned on on the hottest of days. We dress seasonally indoors.
In my rental, however, the guests control the thermostat. Even if it kills me a little bit knowing that they are likely overheating the place when they are gone for the day. Guests deserve to be comfortable. Someday I will invest in one of those fancy remote thermostats...
Reply Like 2 replies•1 like Delete
Gretchen
Gretchen2 years ago
We have a cyberstat thermostat. It's awesome and I can control it from my cell phone. I've only changed the temp on people once, a group of young men had the windows open in march (still quite snowy and cold in Colorado) and had the heat set to 80 degrees. I turned it down on them and called asking them to close the windows. Turns out they were smoking in the house and wanted to get rid of the smell. I don't think they were expecting that I could know where the heat was and where the windows were from my phone! The offered an extra $50 for the heating bill.
Gretchen
Gretchen2 years ago
Oh, and it was less than $100 on amazon.
Deborah
Deborah2 years ago
Thank you Serafina! I think I will be compromising with my own preferences here to provide more heat for guests, but there is a line (perhaps not as yet completely defined) beyond which I am not willing to go, particularly since I offer budget accomodations at rates almost equivalent to what long-term tenants in my area pay for a room in a house, when they also pay for utilities themselves.
In general, I wouldn't mind the guests having all the heat they wanted, if they were actually paying for it directly. I have found that often in life, people are more careless with what they aren't paying for, and when they have to pay for something, they can become almost amusingly stingy.
I have an anecdote to share along those lines. I have one guest room that is not connected to the house central heating system, and it has its own direct-vent gas heater on the wall, with its own thermostat. When I rented this place to long-term tenants, the first person I rented it to must have had the heat on at 80 degrees all day and night, because when I got my utility bill for the month, the gas bill was twice the normal rate for that time of year, and I was livid. I realized at that point that my former arrangement, that of dividing up the utility bill costs each month among all tenants, would not work given that now one person could use far more energy than anyone else for their private space, while causing others to foot the bill for their excessive usage. So, using data from average gas bills over several years, I came up with a formula to calculate the gas usage of this private heater per month, and to bill the tenant in that room for that usage. I informed the new tenant in this space about this method of calculating her gas bill, and when she realized that excessive gas usage could more than double her share of the monthly utility bill, to where she might be paying an amount in utilities equivalent to 25% of her monthly rent, she actually decided to NEVER use the heater in this room! IT got cold in there in winter -- actually below 60 degrees, probably it was 55 degrees in that room in winter -- but she never put the heat on, so reluctant was she to pay for heat. She just bundled herself in jackets and scarves.
I found the contrast between these two tenants quite amusing. The first one wasted heat to an incredible degree because he didn't have to pay for it. The second one wouldn't use any heat because she would have to pay for what she used. Somewhere in there lies a lesson about how people can adapt to all kinds of circumstances based on their responsibility level within those circumstances.
Reply Like 2 replies•3 likes Delete
Deborah
Deborah2 years ago
As far as the idea of people paying for what they use, I have seen some hosts offer guests two different daily/weekly/monthly rates, based on two different tiers of energy usage. I suppose this is a possibility too, where I could state in advance what my typical heat settings/arrangement is, and indicate that for a guest wanting significantly more heat, they would need to pay at the higher rate. The complication in my case is that the additional heat they want would ( except for the one room with its private heat) be going to everyone else in the house, so everyone would be "benefitting" from one person's higher payment.
Leah
Leah2 years ago
Since space heaters are electical energy hogs, I would go with extra blankets or electric blanket first, or go buy some guest robes for lounging in the day. Ikea has some big fluffy white ones for $20.
Andraleia
Andraleia2 years ago
Now that we have a short break in between guests, we are taking this opportunity to assess the potential needs of our guests as the weather gets colder. We're in L.A. and though temperatures are a bit milder here than on the east coast or other parts of the world, we are a desert climate and the temperatures can really drop at night. Of course, it doesn't help that we live in a house that was built in 1928. So old windows and uninsulated walls have no pity on us during this time of the year.
We also have a whole house heating and air system which proves to be somewhat ineffective and quite costly to run if weatherproofing is inadequate; a hard lesson we learned this past summer. So weather proofing any windows and doors where air is escaping or coming in from outside has become our immediate priority. It also helps that we program our thermostat to come on right before bedtime and just in time to ease the morning chill.
Though we use hot water bottles ourselves, it didn't dawn on me to provide this as an option for guests until Andrew mentioned it. I would suggest flannel or fleece sheets if you're not using them now. Our family can definitely feel the difference when we switch from the cotton ones. If that's too much warmth, you can use the fitted or flat sheet with a cotton one.
I decided last night that prior to a guest's arrival, it's probably a good idea to send them an email that's weather related. A reminder about packing a few long sleeved tops, sweaters, warm socks and slippers. Hoping it will all work out since this is our first fall as hosts. Fingers are crossed as well!
Reply Like Delete
Fiona
Fiona2 years ago
I stayed at a small hotel in Sorrento, Italy as a base to explore the wonders of the area (Amalfi, Capri, Pompei, etc.) years ago in the "off" season and the proprietress (who was always in an overcoat, scarf and oversized sunglasses - she may have been Greta Garbo) ran the heat for a couple of hours in the morning and between 7-9pm at night only. So, to get any residual heat in this room (which had just been redone all in gorgeous but cold tiles) at all you had to make sure you were home before 9 in order to go to your room and turn it on before going back out of the room for dinner so it would run before automatically shutting off. I was in my twenties and the hotel was beautifully located for overlooking Mount Vesuvius but was not convenient for running back to just to turn on the heat so there were many nights I missed it entirely or just got it to run for a few minutes before it was shut off again. It's one way to make for a memorable listing! That and a view over the Bay of Naples from the shower.
Reply Like Delete
Javier and Kym
Javier and Kym2 years ago
Well, when we went to Europe in May, it was in the 50s during the day and there was no heat anywhere. Not in the 4 star hotels, not in B&Bs and not in the airbnbs. For that matter, there wasn't even hot water in the Parisian or Roman airbnb. Most everywhere in Europe, they turn off the heat and it doesn't go back on until winter and here's an extra blanket, the end. Heck, the castle in Germany didn't even HAVE heating. I've had that same thing happen in Washington DC, again in May. They turn off the heating, too bad. Other hotels up North, WITH heating, don't get as warm as I'd like it.
The lesson here is that when you travel, you don't have the comforts of home.
Reply Like 3 likes Delete
Andrew
Andrew2 years ago
Unlike long-term tenants, with whom you have contractual agreements about which furnishings and utilities are inclusive in the rent, most B&B guests are going to make the reasonable assumption that the utilities have already been built into the price - not that they're free extra perks. Unless you're the cheapest host in town, your guests have doubtlessly considered lower-priced listings but ultimately chose yours because of certain things you offer, which may include Central Heating. So I can see how in their view, they may feel that in a way they paid "extra" for that amenity. It's not the most rational view, but it's going to sneak into their perception of the value of your place.
But I can definitely appreciate your point of view there as well. One person's "fresh" is another person's "drafty" - I remember a friend for whom it was the final straw in her marriage that her Mediterranean husband refused to open windows on hot summer days because he found the breeze too drafty. Hopefully you can work with your guests to find a setting that is comfortable for everyone. I think your guest was trying to meet you halfway when he proposed the space heater, so he should be just as willing to work with you and communicate when and where in the house he needs more warmth in order to find the solution. If he's not just a grouch, he'll appreciate the effort that you made to understand his needs.
Deborah, since you're a home repair specialist, I'm certain that you're as on-the-ball with insulation as one can possibly be, but for the benefit of other amateurs like me, I definitely recommend that everyone check the insulation in their guestrooms going into winter and ensure that as little heat as possible can escape, to get the most out of your energy usage.
Reply Like 1 like Delete
Stan & Maggie
Stan & Maggie2 years ago
Oh Deborah, I sympathize! The Bay Area is not kind to heating bills, I still can't get used to the 4.30pm temperature drop! and as for the forced air heating :-(
I run our heating just before guests get up for a couple of hours and then again in the evening. Also its set to come on if the temperature drops excessively.
I really don't want anyone to be cold and tell guests to let me know if they are. Always have extra blankets, throws etc around. We are talking advantage of a booking gap to draft proof and put up thick blinds behind the drapes. I think electric blankets a great idea, although I think under blankets are a safety issue
Maggie
Reply Like Delete
Lisa
Lisa2 years ago
I'm new to this, so please forgive me, it's just my opinion.
They are your guest, and we provide accommodation for them.
It's our business also, caring, hospitality is the service that we provide, even if it's in our homes. I always ask my guest if they are comfortable and if they need anything, please let me know. I would also like to be treated the same way, if I'm an AIRBNB guest. People, communication, hospitality...
Reply Like 1 like Delete
Jana
Jana2 years ago
It can get down into the single digits to teens (though is usually a solid 20-30 degrees Fahrenheit) here in northeastern Massachusetts. Generally I don't have guests here during the dead of winter but this year I have people booked for the week before Christmas. I pretty much plan on almost breaking even during their stay due to heating costs. I'm going to have keep the house at a temp that is far above what I would normally keep it at. The heated blanket is a great idea and I highly recommend that and a heated mattress cover. They have automatic shutoffs with can help with excessive energy consumption.
During much of the winter we have trouble keeping our house above 65 degrees and there are times when the outside temp is in the single digits and I can't keep the house over 55. Ugh!! Our house is 130 years old but luckily has a new furnace and new windows. Even though we just wear more clothes and pile on blankets and dogs (great natural heaters), I can't expect my guests to endure those temps.
Deb, while I can't completely relate since it gets so much colder here than the Bay Area, I would think maybe with certain guests you may need to bump up the heat a little and maybe provide an electric blanket. Oh the challenges of hosting!! It's always something new and different.