Post by High Priestess on May 27, 2016 15:19:57 GMT
Doing some searching for old content on the groups before they close, I found this post by Airbnb employee and COmmunity Mobilization Team member Carlee Busby on the Raleigh Hosts Group: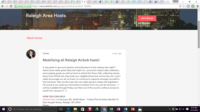 Carlee shared Jan 2015 on Raleigh Area Hosts
www.airbnb.com/groups/content/content-100902
(Carlee profile:
www.airbnb.com/users/show/121959
SHe is a SUPERHOST!! Yea!)
Mobilizing all Raleigh Airbnb hosts!
It was great to see such passion and enthusiasm at the meetup last night! I heard some really great ideas last night (i.e., economic impact data collection, encouraging guests as well as hosts to attend the Town Hall, collecting stories about how Airbnb has improved your neighborhood and community, etc.) and I really encourage you all, as hosts, to continue to organize amongst yourself to find solutions. You are the ones who are really going to shape this legislation.
Of course if you need any information/numbers from me, just let me know -- I will be available through Friday, but then out of the country without access to email from January 3 - 7.
HOW YOU CAN HELP:
Airbnb Town HallJanuary 5th, 20155:30pm - 7:00pmThe Architect Bar108 1/2 East Hargett Street, Raleigh, NC 27601
Notes:
This is the only event with Airbnb-employee representation. Since I will be unable to attend, my colleague Max Pomeranc, Public Policy Manger, will be attending the town hall, but will be unable to attend the City Council meeting the following day. Max really is a great resource for you all and I really think you're going to get a lot out of hearing what he has to say--he's had for more direct experience with helping other cities form legislation that works.
This is your best chance to make sure your voice is heard, as you may not have the opportunity to speak at the official City Council meeting. This is the one event where everyone will have an opportunity to speak and be heard. City councilors and the community at-large are hoping to attend to hear what you have to say--they're expecting Airbnb hosts!
Event sign-up page with complete event information:
www.eventbrite.com/e/airbnb-town-hall-tickets(phone
number hidden)
City Council Meeting to address "Internet Home Rental Services"Janaury 6th, 20157:00pm222 W. Hargett St. - Council Chamber
Description from the agenda: "The City has received a zoning complaint related to residential property being used as a bed and breakfast. While the method for patrons securing or reserving a room from internet-based inns has evolved over time to take advantage of new technology, the use as a business is regulated by the zoning ordinances. Staff seeks guidance from the City Council regarding existing regulations as well as direction to continue to prohibit business use in residentially zoned districts or to potentially accommodate such business uses in the City."
Note: You must Petition To Appear Before City Council: To schedule an appearance before Council please submit a Request & Petition of Citizens to City of Raleigh Council form
www.raleighnc.gov/content/CityClerk/Documents/Applications/PetitionCityCouncilFillableForm.pdf
to the City Clerk by 12 p.m. on Tuesday of the week preceding the scheduled Council meeting (this must be in by noon tomorrow!). Additional support information should be submitted along with the request. The request form contains completion and submission directions.
References - use these when thinking about what specific legislation you want to see in RaleighData on Airbnb's Economic Impact
blog.airbnb.com/airbnb-economic-impact/
Airbnb's Public Policy blog
publicpolicy.airbnb.com/
chronicling the progress made in legislation around the worldRaleigh City Council website (lots of info, including finding your council member and their contact info to send letters)An example of how Grand Rapids, MI
www.mlive.com/news/grand-rapids/index.ssf/2014/08/airbnb_verdict_in_grand_rapids.html
responded with only Airbnb-host self organizingExplanation of how Airbnb is collecting taxes
www.airbnb.com/help/article/653
for short-term rentals on behalf of other cities
2 comments
Follow
Like
Carlee
Carleea year ago
Here's the Facebook event for the Town Hall that you can share with your friends and Airbnb guests:
www.facebook.com/events(phone
number hidden)
Spread the word so that we have tons of Airbnb supporters there on Monday!!!
Like
Dexter
Dextera year ago
I plan on being there Monday. I was featured in an N&O article about Airbnb and actually am looking to purchase the Oakwood Inn to renovate it, and use Airbnb and one of my platforms to rent rooms. I would love to talk and bring to light the issues I may face following this venture