Post by High Priestess on Sept 25, 2015 4:18:29 GMT
Guest flooded the apartment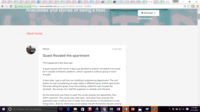 www.airbnb.com/groups/content/content-122863
Marlon shared 11 months ago
Guest flooded the apartment
Marlon
This happened a few days ago.
A guest stayed with me for 5 days and decided to extend. He asked if we could do it outside of Airbnb's platform, which I agreed to without giving it much thought.
3 days later, I get a call from our building's engineering department. The unit below me was complaining of water leaks in different parts of their apartment. We tried calling the guest, from the building, called his cell, buzzed the doorbell.. No answer. So I told the engineers to already pick the lock.
So the locksmith was there to open the condo already, but apparently, they didn't need him. The condo was wide open. And when they entered, the apartment was in half an inch of water from the kitchen to the bedroom to the living room.. And my client was sound asleep. He left the kitchen faucet running and his spaghetti jammed the drainage. There were beer bottles lying around, and the condo was in utter chaos.
When i got to the unit, he was apologetic and told me he'd settle the bill.
I was so stupid to believe him. This morning I got a text from him that he checked out already. The damages is around $3,000 and all I have of him is his local prepaid number and his name, that's it.
I don't have any security deposit, even if I did, I only normally ask for $200.
Moral of the story, sign a contract or do it thru Airbnb. Will head to the police station now and I hope that does something. He's American and I don't know if I can still track him if he stops communicating with me.
20 comments•2 likes
Following
Like
Kenya
Nic and Rach
Mig
Mig11 months ago
Oh shoot, sorry you experienced this. I hope it gets sorted soon
Reply Like
Gordon
Gordon11 months ago
Feel bad for you. Going outside airbnb is never a good idea.
Reply Like
Tina and Peter
Tina and Peter11 months ago
Always go through airbnb. They take their 10, 12 %, but at least you have some leverage. I had guests that stayed in my apartment, returned after 14 days, wanted to go outside airbnb and pay at the end of the stay.
Told them to go through airbnb and I will give them the discount for the % they pay to airbnb. They did not rent in the end, said they got another apartment. :-)
Reply Like
Deborah
Deborah11 months ago
When you make rental arrangements with someone, regardless the forum or venue, whether you do it through Airbnb or VRBO or Craigslist or whatever, you always, always, always have to have damage and security deposits in mind. One of the many advantages of having people book through Airbnb, regardless how they find you (Craigslist, a friend's referral, etc) is that you have the $1 million "host guarantee" for crimes and vandalism to your property, as well as the liability insurance if you are a USA host, and you can specify a security deposit, which better be for a reasonable amount, as you can see here by your experience. If you had extended this man's stay through Airbnb, but only had a teeny tiny security deposit like $100, you might not get your damages reimbursed either, because this damage wasn't intentional, it was accidental, and the "host guarantee" generally doesn't apply to accidental damage. (Though Airbnb can and sometimes does reimburse a guest in excess of the security deposit amount for accidental damage).
If you rent directly to a person, you MUST get a security deposit from them, even if they are only renting for 1 day --- because in that one day, anything can happen, and this is a good example of that. When you tell people that if they want to pay you direct they will have to pay a cash deposit of, say, $750 to $1000 for a 5 day stay, many will balk at that, which is why booking through Airbnb where you can stipulate a $2500 security deposit (if you want) is better, because the guest is not charged that $2500 and doesn't pay it in any way unless they do damage to that amount.
Moral of the story: use Airbnb to extend peoples' stays, and specify a reasonably sized security deposit.
Reply Like 3 likes
Emanuel
Emanuel11 months ago
I have a question,which I think it is a good one. Wouldn't Airbnb take responsability for that? I mean if you do not have a company where you registered the commercial activity is it possible to go to the police? Will it work? I am myself a host and I don't know if I would have the possibility to go to police since it was my decision to let them in. I am renting in Bucharest,Romania. Hope to hear your opinions soon. By the way,I really am sorry for the situation,wouldn't wish this to anybody...
Reply Like 3 replies
Nic and Rach
Nic and Rach11 months ago
Hi Emanuel, My advice to you is to read the FAQ and host guaranty I am sure you will learn a lot. And as far as police.. they can only write a report about the accidents and you can or may use the police report to file a claim on your home insurance and again, Your home insurance may approve or decline your claim based on their findings...So, it will be a good idea to have a second back up for insurance that covers short let rentals such as CBIZ. unfortunately this expense may come out of your pocket...and that is really insanely sad.
Kimberly
Kimberly 11 months ago
Not if he went outside the airbnb.come site to extend someone's stay and then a terrible damage happened during the time frame Airbnb believed him to be checked out. Now if it happened while the guest was there under an airbnb check in portion of the stay - maybe corporate would offer you some protection. You would have to ask. But it's just another reason to say, stay in the system. The 10% They take is a small price to pay for coverage and peace of mind. To me, anyhow.

Emanuel
Emanuel11 months ago
Thanks a lot for the responses!
Nic and Rach
Nic and Rach11 months ago
Totally a bad idea to transact business outside of AIRBNB. others may say cash is king but in reality damages can be insane, why risk if you can avoid it...If AIRBNB is rewarding as " Super Host " then we should reward ourselves " Smart Host " We learned from experience and we educate ourselves consistently by reading and following threads and different posts from different groups and in our actual hosting. And to be honest I learned a lot from this group, specially NHF, Bedder Hosting, Hosting 911, Products, updates and improvements etc.
Anyway, since you are out of luck claiming from Airbnb, your last resort is if you can file a claim from your home insurance, you may or may not approved but at least you tried.. I am sorry that it happened to you.
Reply Like 1 reply•2 likes
Nic and Rach
Nic and Rach11 months ago
May or may not be approved ( correction)
Danny
Danny11 months ago
Thanks for sharing this story. This gives us all some food for thought, doesn't it.
I'd say you have to choose your game plan. You are either operating within the Airbnb system with its rules and protections or you are having a private rental contract with its rules, deposits, etc.. Having it half way is just too risky.
Reply Like
Maxine
Maxine11 months ago
That's really awful for you. I agree with others, always get them to extend through Airbnb so you have some come back at least. However, even if you stated a $2,500 dollar security deposit and the only verification Airbnb held was the same temporary mobile or email address that could easily be changed - they too would have difficulty contacting the guest and credit cards would have a limit so even claiming the $2,500 plus deposit would be highly unlikely.
I hope you had a decent insurance policy in place as that's the only way you are likely to be able to reclaim anything and that you have control over in terms of speaking directly to them.
The Airbnb insurance policy is virtually impossible to claim from - they'll do all they can to avoid claims putting everything down to 'accidental damage' - except where the damage is deliberate, the police are involved, and the guest admits liability.
When I first started Airbnb (Aug 2014), a guest ruined a brand new, expensive mattress (pee'd the bed!) but trying to get Airbnb to put it on insurance after guest denied any recollection of the matter, was impossible - short of a DNA test. I had to replace it at huge expense and learn from it by buying a thick mattress topper to contain costs should it ever happen again.
I have been very lucky with the majority of guests who have been great and respectful. And even in this unforturnate incident which I'm sure wasn't malicious, it does however leave hosts vulnerable and footing the bill.
And in my experience as an Airbnb host, such risks Airbnb expect hosts to take-on as part and parcel of being a host letting their property to guests.
Reply Like
Kimberly
Kimberly 11 months ago
I see no good reason for the host to say yes. IMHO. without the protection of Airbnb we are asking for trouble and should something bad happen, the first thing Airbnb will want to know is why you need help when you knowingly violated their terms. Like lose lose. To me.
Reply Like 4 replies
Deborah
Deborah11 months ago
I dont' believe it is actually a violation of AIrbnb terms to allow a guest to pay cash for an EXTENSION Of their stay. THey cannot pay cash for the initial booking, as the rule is that anyone who finds you through Airbnb, has to pay you through Airbnb. But once the guest is already there with an Airbnb booking, now their contact with you is direct, and they can if they want do any future bookings directly with you rather than with Airbnb. An extension of a booking "sort of" falls under this category in my mind, of another booking. I still would strongly suggest that hosts do all extensions of bookings through Airbnb, for many reasons, but as for technical details -- I don't think it would be a violation of the terms to do a direct booking for an extension of a stay.
Gordon
Gordon11 months ago
Of course it's a violation; you're stiffing Airbnb of their commission/charges.
Marlon
Marlon11 months ago
I don't think it's a violation either. You entered into a new agreement with the client. It's not like it was premeditated. But in any case, lesson learned. Best to complete the booking through airbnb. At least you get to write a review in the end.
Lula
Lula11 months ago
It is a different agreement. You already satisfied your initial contractual obligation with Airbnb.
Kimberly
Kimberly 11 months ago
That said I feel bad for your loss. There's a lot of people in the world that will take advantage given any chance. Beware.
Reply Like
Danny
Danny11 months ago
One particular problem here is that many guests do not understand how the security works. A few think that they have to pay that money in, and then sit and wait, until the host sends it back to them. Hence, putting a very high security deposit, justified as it may be, actually puts off guests.
I also imagine that the Airbnb host guarantee is more of a marketing gimmick than a serious layer of protection, unless we are talking a very serious matter that would involve the law enforcement, etc.
It is true that like in any other business, the participants are taking certain risks. Factoring them into your pricing is henceforth, a complete necessity!
Reply Like 1 like
Marlon
Marlon11 months ago
Moral of the story, damages will happen and even if this was coursed thru Airbnb, there's a limited liability. Asking for a $2,500 security deposit is not practical. Not everybody's credit limit will allow that. According to my lawyer this is gross negligence and it merits a civil case or even a criminal case. Big problem though is that this client is just a traveling guest. I'm inclined to inquire about insurance on Monday. It's really the only way we can get protection from negligent clients like this. Oh did I mention too that when I checked the apartment this afternoon, it reeked of cigarette stench. Seems like he threw a party last night! Been trying to get rid of the smell for 5 hours now and it's still there. Oh brother!
Reply Like
Deborah
Deborah11 months ago
Marlon, I think you might get good information from others who have experience doing "vacation rentals" on other platforms, and directly eg with their own website. You might inquire how they deal with security deposit and damage issues. Many of us hosts, myself included, only rent rooms and not entire places and thus the potential for damage is (hopefully) minimized as we are there to see what is going on. From some things I have read about those who do vacation rentals, it was common for them to have the guest sign a long contract and to put down a considerable security deposit.
If your situation had happened to me, I would probably submit a claim to Airbnb for the total cost of the damages, just to see what I might be able to get from Airbnb. It doesn't hurt. You could if you wanted call the police and report this as vandalism -- the guest tells the story that he was asleep and left the water on, but your argument could be that he did this intentionally. THe benefit of calling the police and getting a police report is that then you would have a greater likelihood of getting reimbursed by Airbnb's host guarantee, if this is considered as criminal activity. And it need not be definitively established as such, only alleged to be such, to try for the host guarantee.
If in your country you can do a small claims court type lawsuit for this amount, it would certainly be worth doing that and getting a judgement against this guest, but you would probably need his residence address and other information to have much chance of collecting anything.
Reply Like 2 likes
Marlon
Marlon11 months ago
I actually have a contract I let guests from other platforms sign.. And I do collect a $200 deposit as well. This was really an oversight since I treated it as an extension..
Thank you for all your moral support! I appreciate it! Only fellow hosts can really understand the horror that I experienced.
Reply Like
Filippo
Filippo11 months ago
This is why I always ask for the guest's id and copy it, other than because of the law. If something happens, I know who they are
Reply Like 4 replies
Tina and Peter
Tina and Peter11 months ago
Are you are allowed to photocopy the guests ID?
Marlon
Marlon11 months ago
I've experienced a client who was queasy about showing his ID. He gave me a photocopy of his passport but blocked out the number. He was paranoid of identity theft. I just checked in a client this afternoon and I took a photo of his IDs. It's easier than photocopying right?
Danny
Danny11 months ago
I am also in favor of asking for a copy of a government issued ID. Even a good picture on your phone is an option. Many countries around the world have a legal registration duty at all the hotels and other accommodation suppliers. Austria and Switzerland come to mind immediately. True, people are afraid of the identity theft. But we all live with that risk whenever we show our IDs. The option of not leaving your home is really not a most practical one.
Filippo
Filippo11 months ago
I need the ID numbers to do a mandatory communication to the police HQ, so I copy them too (with the guest's consent of course) in case problems arise. It's a safety measure, they do it in hotels too over here
Maxine
Maxine11 months ago
Good point Filippo - for non UK guests, I'll ask for passport on arrival & copy it just in case needed.
Hate to say it but in instances where any damage (however minor) has been caused, it has been with non-UK guests.
I wonder if guests are better behaved in their own Country as they are more easily tracked & reputations affected.
And like others, whilst I'm sure Airbnb has an insurance policy the manner in which it is presented is a marketing gimmick or at least a way of lulling hosts into a false sense of security.
So take all precautions as you would if you were letting without the Airbnb platform
Reply Like 2 replies•1 like
Filippo
Filippo11 months ago
I ask ids from everyone, right now I have a guest from a town half an hour away and his russian girlfriend, and he's no exception.
Marlon
Marlon11 months ago
Taking IDs is good but I think it's not enough. For damages that exceed your security deposit, I think the proper protocol is for you to bring someone from your local authority to get everything documented for the public records. Even so, if the guest really doesn't have any means to pay, the best option really is to have an insurance. My understanding is that Airbnb is only a booking site, and it will intermediate disputes only up to the security deposit. Another precaution maybe is to offer a "free clean up" for clients staying for more than a week. That way, you can see how your client is taking care of the apartment and you can take your cue from there already.
Sonja
Sonja11 months ago
Please make sure you leave an accurate review of this nightmare guest to warn other hosts, should he ever decide to use airbnb again. Sorry about your horrible experience!
Reply Like 1 reply
Marlon
Marlon11 months ago
Unfortunately, I gave him a good review since he officially checked out from airbnb days before the incident.
Maxine
Maxine11 months ago
Marlon - Noooooooo
Stating the obvious you had 14 days to leave a review and should have waited til he checked out.
I think you owe it to other hosts to ask Airbnb to remove your review or better still to edit it - even if that means explaining the extension and damage - or even saying, you subsequently discovered smoke damage, broken taps and blocked drains that came to light after you placed your review. PLEASE don't leave a positive review in place that will put other hosts at risk
Reply Like 2 replies
Danny
Danny11 months ago
It is hard not to agree with Maxine here. We all owe it to the system to be truthful. If a guest caused damage, state it politely and factually, but mention this clearly. Hosts references are our primary source of knowledge about the guests. If we all undermine the system, the whole thing we have invested our time and money will become useless. I doubt that anyone wants this to happen.
Marlon
Marlon11 months ago
I don't think you can change reviews. I've never seen that option ever. Can you? In any case, like I said, I wrote the review when his Airbnb contract ended. Who would think he'd turn out this way. Lesson learned. And mind you, he had 2 other ok reviews on his profile, hence why I approved him. You just can't trust reviews anymore. Best to take other precautionary measures.
Nic and Rach
Nic and Rach11 months ago
Totally agree with you Marlon, If you are dealing outside of AIRBNB or any other platforms you should have a ready form for your guest to sign A brief and concise short term lease agreement and attached to it are the required personal info of the guests eg: A passport or Driver's License Copy etc. I just don't want to be dealing with it though... It is really up to the host/s how is it being handled.
Reply Like 1 like
Tina and Peter
Tina and Peter11 months ago
Going out of airbnb was a mistake, you don't really gain all that much, you probably gave him a discount too, right? Maybe you should get in contact with airbnb help, explain the situation, tell them that it is in their best interest. Happy hosts are just as important as happy guests. I'm not sure if airbnb understands that, but sice they have stiff competition in the market, it should be in their best interest. Jurgen is clearly irresponsible. Or maybe he just doesn't know how pasta behaves when in kitchen sink. Being German it's understandable. :-)
Reply Like 1 reply
Tina and Peter
Tina and Peter11 months ago
I still don't know if you have the place insured. The insurance company should cover it. If not airbnb should do it. Keep us posted, please.
Deborah